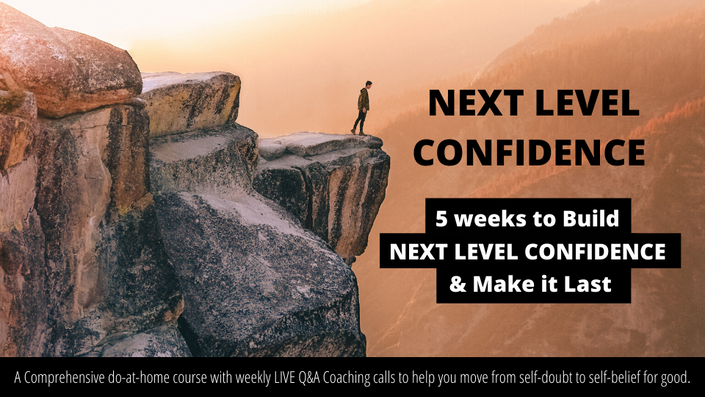 Why You're Here... To get CONFIDENCE
Was $297 - Now JUST $99 (AUD)
You find yourself struggling with doubt, succumbing to fear, frustrated, hoping that one day you'll "just have more confidence".

The thing is - confidence doesn't just *POOF*- magically appear. There is no Confidence Fairy.
But you wait, and hope, and try a few things that never really seem to work.
You follow a few people on social media. (Try to) get pumped listening to inspirational videos and podcasts.
Maybe you download something touted to help "Boost Confidence"
But the thing about all that stuff is - if you don't work it - it doesn't work.
Cure additional frustration. Inaction. Increased doubt.
Square One. Again.
You've dipped your toes in the waters of shifting your confidence, but confidence isn't a "just the tip" kind of thing - it needs all of you.

And soooo....
You're frustrated. 'Low confidence' rules too many of your decisions. It leads to inaction where you want it most.
You are sick of the fear of rejection, of failure, of focusing and overthinking on the 'WHAT IF!?' and worst case scenario.
You're reluctant allies with regret and rumination.
You keep telling yourself it's just who you are. Or it's your "lack of discipline" - #sorrynotsorry - this is Bullshit.
As such - the same shit keeps on happening.
You know the truth - it's time to put a end to that shit once and for all - to finally BUILD NEXT LEVEL CONFIDENCE.
You want something different - change, a new way of seeing yourself, a new way of being within yourself.
You want to fundamentally shift what you can do, what you willing take on with calm grace and grounded presence; a certainty, a strength and resilience even in the face of doubt, ans fear, and judgement and potential failure - this kind of self-assured confidence that seems to evade you.
UNDERSTAND - this is entirely possible, with the right information, guidance and execution.

Most 'Confidence solutions' are flimsy surface-level strategy. The results are fleeting and soon you're back to square one; same beliefs and doubts, same annoying AF non-results.
STOP chasing this shit and step into something
SOLID. Real solutions - that last.
It's time to take the next step, to take your confidence to the Next Level.
This 5-week course is designed to help you deepen your understanding Confidence, of yourself and how this all plays out for you, and create a solid and secure foundation in your career, relationships, and life.
This course will provide everything you need to do the work on building a ROCK-SOLID foundation of grounded confidence now and forever - despite your fears, doubts, and self-sabotage.
But you can't do this stuff alone - despite your fear telling you getting help for this stuff is terrifying, thus playing out your bullshit confidence story again and preventing the very thing you need from happening.

You get to be supported in this - to fast-track progress, to be guided where you're not strong (right now).
Across the 5 weeks you'll get access to in depth coaching lectures, bonus content, LIVE coaching with Mike, and community of like-minded dudes with similar questions to help you make permanent changes in your confidence.
You'll have access to Mike on a weekly basis as we do LIVE Q&A calls and help you create and cultivate a grounded certainty and a self-assured confidence that sees you take action in the ways you need to; despite your fears, despite your doubts.
SOUND GOOD?

Good. Sign up below and you'll be cracking into it soon - your start date will be TWO days from the time you sign up to give you a little time to prepare.
What does the Course Entail?
Across FIVE weeks you'll receive a weekly email that starts to lay the ground work which then takes you to the teaching video taking you through the fundamentals of the work we'll be doing. These videos are packed with lessons, questions, and things to reflect and work on.
You'll also receive a workbook each week to support you in not only building confidence but truly understanding confidence - what it really is - and more importantly why you haven't had the confidence you want.
These workbooks take you through a number of questions that bring out all of the information in you that you need to not only understand how to get past your old confidence stories, but build real, grounded, genuine confidence - and make it last.
Each week's email will have some summary information as well as a few key pieces of information in this big confidence puzzle - the structure here is designed to be streamline simple to understand, and easy to implement.
Confidence comes from action - this course will help you uncover the pieces of the puzzle and then teach you how to put them together.
PLUS - LIFETIME ACCESS AND Money Back Guarantee
Your Instructor - Mike Campbell
With a passionate desire to support everyday men in moving past
their shit to become their best - no more hang-ups, no more guilt,
self-doubt, self-sabotage - Mike's skills lie in making personal
development easy to understand, to implement and execute so
that everyday men can navigate their lives with confidence.
Content creator, coach, avid stonefruit eater and tragically
self-proclaimed 'Low-Level Batman', Mike is here to help
guide and facilitate you through this course and beyond.
Mike's sole purpose here is to support you in facing and
overcoming your shit, making sense of your past, your
beliefs and behaviours so you can get what you want
from your career, relationships, and life -
- without all the frustrating shit getting in the way.
He will do this with a lovingly caring heart and a firm strong hand
- a flow between supporting you with compassion and calling you
forward to be who you can become - not only helping boost your
confidence but coaching you to build it yourself.
That means building genuine grounded, immovable CONFIDENCE.
Course Curriculum
Confidence Code Next Level - Welcome
Available in days
days after you enroll
Week One - Why you're NOT confident
Available in days
days after you enroll
Week Two - What are you actually afraid of?
Available in days
days after you enroll
What other men say about building confidence with Mike
"I feel unstoppable, like Superman!" - Kirk, 32
"This has been the awakening of a dangerous Mother Fucker! Haha" - Daz, 47
"I can tell this is actually a defining moment in my life. I feel a lot more me for the first time, and a lot more in touch with what's important to the younger me. I'm really excited about what's next; wanting to be me in the world, knowing what's important, it's a pretty awesome return on my investment." - Phil, 40


"I'm more self-assured now, I have a confidence that people have noticed both in my personal life and my business life." - Andy, 42

"The changes I made during this program - communication has been off the charts. If you know you have the potential to do more and be more, do this program." - Jono, 28


"Starting this course and taking a deep dive into understanding your shit will be a pivotal moment in improving your life and your relationships. This feels like the most important study of my life and I'm still a total beginner (my Masters in Engineering didn't open my eyes this much in 5 years). You've spent $300 on a big weekend before, so treat yourself to something far more memorable and impactful." - Finn, 33
Frequently Asked Questions
When does the course start and finish?
The course starts TWO DAYS after you enrol, that gives you a couple of days to get organised and set some time in your calendar to do the work and plan what you need to. However, all of the content is yours to access and complete at your own pace (while we obviously recommend doing week one at week one, week two and week two, and so on).
How long do I have access to the course?
How does lifetime access sound? After enrolling, you have unlimited access to this course for as long as you like - across any and all devices you own. Until such a time as it may be taken down. There is no plans for that right now, and you will be warned in plenty of time if that is to occur.
What if I am unhappy with the course?
We would never want you to be unhappy! If you are unsatisfied with your purchase, contact us in the first 30 days and we will give you a full refund. However, because commitment is a thing amnay guys struggle with, and it's something we talk about in this course - I challenge you to commit and stick it out. Whatever the story is that's coming up, even if it seems super legit - like "I'm just too busy at work" - you will always be busy and have thing son. The challenge is to make this stuff - YOUR LIFE - a priority AND use the support available to you. No one expects you to do this all on your own. In fact, I actually expect you to use help and support - so stick it out and you will THEN see the rewards! But yes, worst case - man to man - we can discuss and you can pull out of the course for a full refund inside 30 days fo purchase.